Connect with your social network account
The Yocan vaporizer giveaway in June is underway, and there are only 5 days left for the event. Yocan Official has received feedback from many friends who want to get
Yocan Pillar e rig Vaporizer
.
Yocan Pillar dab e rig is the latest water-filtered dabbing equipment owned by Yocan. Due to its portable design and reasonable price, it is popular with many concentrate lovers. In this Yocan Giveaway event, Yocan vape manufacturer took out two pieces of the Yocan Pillar innovative e-rig Vaporizer kit as prizes. Of course, there are also other prizes such as Yocan UNI Pro and Orbit. But if you want to get Yocan Pillar, you must score first and third place will have a chance to get it. The first place can get not only the Yocan Pillar dab e rig but also the Yocan Orbit vape pen.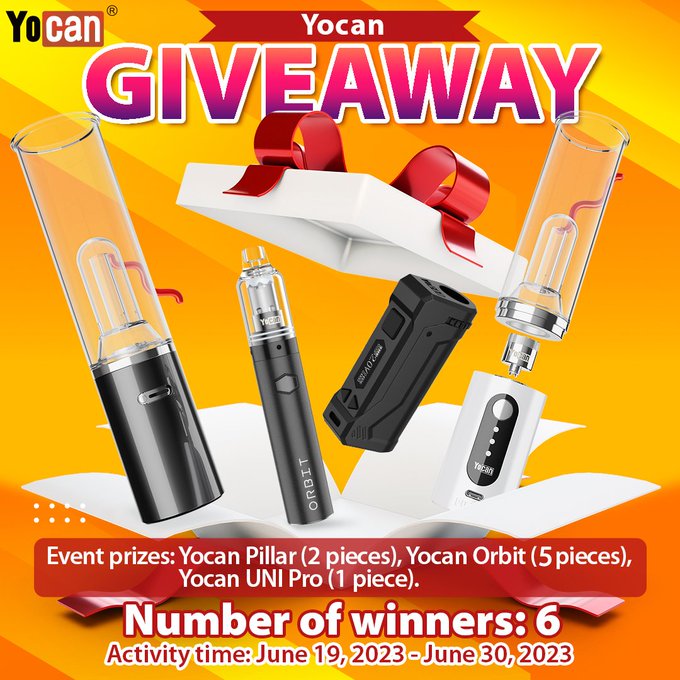 To get a high score, you need to persist in completing tasks in Gleam daily, such as commenting on Yocan blog posts, sharing blogs to social accounts, browsing some pages, etc. These tasks will give you extra points every day. Most notable is the first task of sharing the Giveaway activity to social accounts for up to 35 points. This task must be completed, it will help you to separate yourself from other contestants. Another thing is to post to the Yocan Forum every day. This task takes some time, and many participants are unwilling to insist on completing it every day. If you stick to it daily, I believe you can get a good score!
The above is advice for fans who want to get Yocan Pillar dab e rig in this Giveaway event, hope it will help you to win!
Related Articles
Enter Yocan Official Website to Win High-Quality Vaporizers
Do You Want Yocan Pillar to Upgrade to a Dry Herb Vaporizer?
How Much does a Yocan Pillar E-Rig Cost?
Stay persistent, complete task best ypu can and always stay lifted! Good luck and hope i win !
I believe if you keep trying you will win!!