Connect with your social network account
Yocan Zen is the first dab pen vaporizer to use ceramic & diatomaceous earth coils. The overall size is 14.2*121mm and the weight is 43.5 grams. With a 650mAh battery capacity and long standby time, the
Yocan Zen dab pen
is a portable device designed for people on the go.
The following content will give you a detailed introduction to the benefits of using the Yocan Zen dab pen vaporizer.
Cautious
The overall appearance of the Yocan Zen is similar to a pen. Concentrates can be completely enclosed inside the Zen dab pen vaporizer. Don't worry about anyone knowing what you're smoking. Especially in some areas with strict control, the Yocan Zen dab pen vaporizer is very suitable.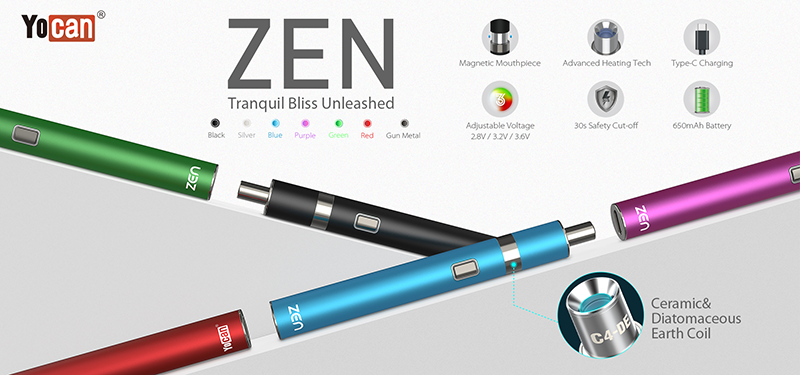 Flavor preservation
Yocan Zen uses a newly upgraded C4-DE coil, which perfectly combines ceramic and food-grade diatomaceous earth. Let the Yocan Zen wax dab pen completely vaporize the concentrate in just three seconds, producing a massive, clean-tasting vapor. Preserving the terpene and flavor profile of the cannabis strain, providing a tastier and more enjoyable experience.
Portability
The Yocan Zen electric dab pen is small and powered by a 650mAh rechargeable battery, allowing you to use it all day without worrying about power outages.
The compact size makes it easy to carry in your pocket or purse.
Reduce waste
Yocan Zen dab pens are more effective than traditional smoking methods because they make better use of concentrate. The stainless steel Yocan Zen is very resistant to falling and wear, effectively extending its service life. I hope you like Yocan Zen. If you want to know more, please leave a message below. Finally, it is worth mentioning that the Yocan official website is holding a Giveaway event. There are only three days left in the event. If you are interested, please participate as soon as possible.
Related Articles
Enter Yocan Tech to Win Verve Auto-Inhale-Activated Batteries
Participate in the Yocan Verve Giveaway to Win a 510 Thread Vape Battery
Why Do You Need the Yocan Verve Auto-Inhale-Activated Battery?
Omg I'd love to have the pillar, verve and the zen!!
I'd be over the moon to win a pillar.