Connect with your social network account
The CBD vaporizer industry is becoming increasingly competitive, and as a vaporizer wholesaler or retailer, you need to make your products and services stand out. By
wholesaling Yocan Ziva CBD vape mods
, you can take your customers' vapor experience to new heights.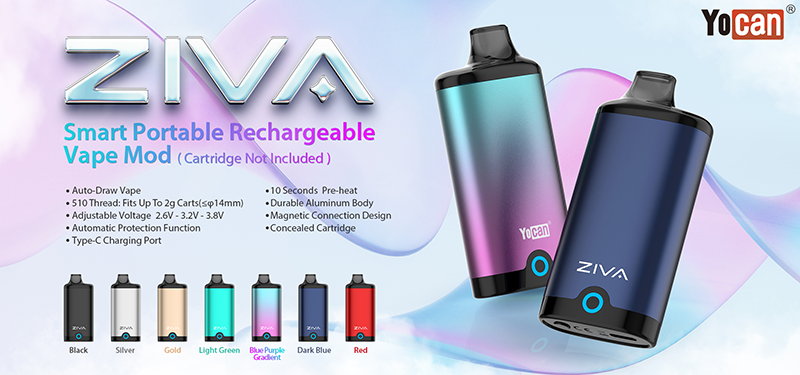 CBD vape mods are very popular among intermediate and advanced marijuana players due to their good customization features. Yocan Ziva CBD vape mods are the best box mods with high compatibility. It can be compatible with most of the 510 threaded cartridges in the market, and secondly, the cool appearance design can attract consumers quickly. The most recommended is Blue Purple Gradient Ziva.
Finally, the Yocan Ziva CBD vape mods have an auto-draw design that allows users to vape without effort, just gently inhaling. A powerful vapor cloud can be created. Trigger the smoking action by airflow sensing. Strong anti-interference ability, inadvertent fall will not trigger the smoking action, safe and stable!
If you are in the CBD vaporizer industry or want to open your own CBD vaporizer store. Still worried about finding a reliable vaporizer supplier or manufacturer, then Yocan Vaporizer manufacturer must be your best choice. Yocan offers a full range of vaporizer equipment, welcome to Yocan Tech for more information!
Related Articles
Online Wholesale Yocan Ziva Vape Mods
Yocan Ziva Vape Mod Giveaway Winners
Yocan Ziva Built-In Battery Mod Online Giveaway Event