Connect with your social network account
Are you a CBD concentrates lover? Have you participated in Yocan's e-rig Giveaway? The latest Giveaway event is currently underway.
What will you get by participating in Yocan Giveaway?
As the earliest atomizer manufacturer in China, Yocan has ten years of experience and muscular strength in the R&D and production of dab e rig and other vaporizers. In order to let more new friends know about some high-quality products of Yocan, such as Yocan Pillar electric dab rigs. Yocan will carry out some large-scale Giveaway activities. In the latest Giveaway event, Yocan Vaporizer manufacturer offered Pillar
electric dabbing rig
, Yocan UNI Pro vape mod, and Yocan Cubex vape pen as prizes.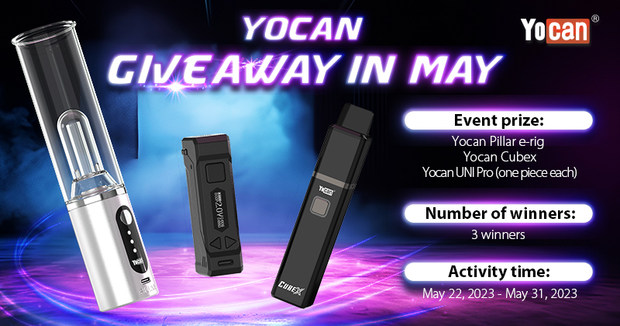 How can I get Yocan prizes?
Enter the Giveaway event page and complete the tasks in the event to get extra points. The top three scorers will have the opportunity to win prizes, and there are still two days left in the event. Friends who have not yet participated in the event must participate as soon as possible. If you experience it, you will have the opportunity to win the latest Yocan Pillar. We also welcome you to invite your friends to participate in this event, Yocan is looking forward to your arrival!
Related Articles
Do You Want to Win in Yocan Giveaway?
Yocan Giveaway Win Yocan Pillar
Yocan Pillar Wholesaler May Giveaway Activity has Started