Connect with your social network account
Moderator: Michelle
Yocan is excited to announce our May Giveaway event!
Yocan Pillar wholesaler
is happy to share the joy of dabbing rigs electric and vaporizer. So this Giveaway event was held, hoping to allow more cannabis concentrate lovers to experience a different vaping experience.
This event starts on May 22, 2023, and ends on May 31, 2023. With the support of Yocan Pillar manufacturer, we prepared three prizes with a total value of 240 US dollars for this event. They are portable Yocan Pillar compact e-rig,
Yocan UNI Pro
vaporizer, and Yocan Cubex.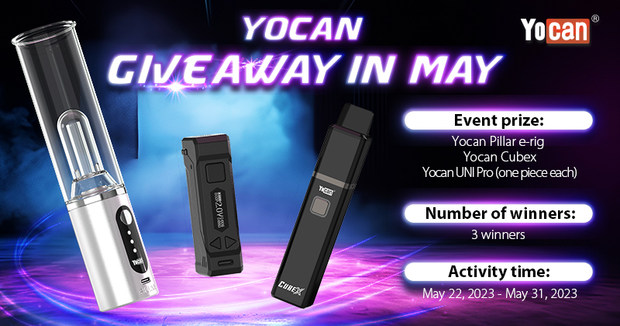 How to participate:
Participating in this extraordinary giveaway couldn't be easier! Follow these simple steps to increase your chances of winning:
Please visit Yocan's website to find the latest giveaway page. On the login event page, you can choose 4 ways to log in, including email, Facebook, Google account, and Twitter to log in to participate in the event. Completing the activity tasks in Gleam will give you extra points, and the higher the score, the greater the chance of becoming the winner.
How to win
Finally here is the key to being the winner and getting the first prize Yocan Pillar portable e-rig. At the same time, the key point to widen the score gap with other contestants is to post a post in the Yocan Forum for the first task. This task is worth 25 points, and you can get bonus points every day, so don't forget to complete this task.
Spread the Yocan Giveaway
We hope you can share this event with more people. Help us make this giveaway a success by spreading the word to your friends, family, and colleagues. Share the event on your social media platforms, invite others to participate, and give everyone a chance to win these prizes!
Related Articles
Where Can Wholesale Genuine Yocan Pillar?
Yocan Pillar Electric Dab Rig Under $100
Yocan Pillar 2023 Best Worth Wholesale Portable E-Rig
Don't miss out on exciting giveaways, enter Yocan's official website and enter Giveaway now!