Connect with your social network account
It's time for the monthly Giveaway sponsored by
Yocan vaporizer manufacturer.
Currently, by going to Yocan official you will see a Giveaway on the Giveaway page that will make marijuana enthusiasts excited about the Giveaway.
The main giveaway for the Giveaway is the Yocan
Blade electric hot knife
, followed by the Yocan Ziva vape mod and the Yocan Pillar e-rig. The most noteworthy prize for the winner of the Giveaway is the Yocan Blade electric dab tool for wax, Yocan vaporizer, and Yocan vaporizer. The most notable prizes are the Yocan Blade, the electric dab tool for wax, the Yocan Ziva, and the Yocan Pillar.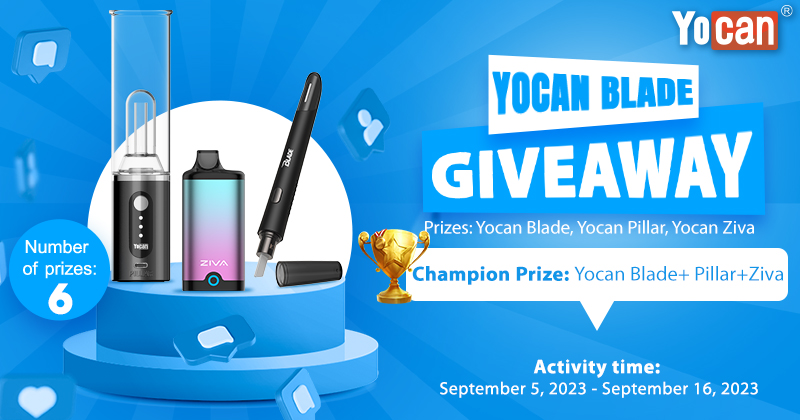 Participation in the event will continue to be online, with bonus points being awarded for completing a number of tasks in Gleam. The top six scorers will have a chance to win prizes. The prizes will be ranked and distributed according to the final score.
Participants need to focus on the fact that there are four tasks to be completed every day and bonus points will be awarded every day. So if you want to get the final victory, these four tasks contestants should complete every day. This is how you will surpass your competitors and get the ultimate victory. In addition, Yocan welcomes new fans, so if this is your first time participating in Yocan official's Giveaway event the probability of becoming a winner will increase.
The event will run from September 5, 2023, to September 16, 2023, and will last for 12 days. It will last for 12 days, if you are interested in this Yocan Blade electric dab tool for wax giveaway, go and join the event!
Related Articles
What Should a Business Consider When Purchasing Wholesale Built-in Battery Mod?
Yocan Ziva Specializes in Vape Batteries for Cannabis Extracts
Yocan Official Newly Launched Blade Hot Knife Dab
I really really really want the pillar
Is Anyone else having problems getting points for leaving a comment for the giveaway?