Connect with your social network account
Do you want to get a high-quality vaporizer device for free this month? Then quickly enter the Yocan Tech website to participate in the latest
Yocan Verve 510 vape pen battery
giveaway event.
The time of this event is: starting on September 28, 2023, and ending on October 12, 2023. Prizes include Yocan Verve 510 vape pen battery, Yocan Blade hot knife, and Yocan Pillar e-rig. A total of 5 winners were selected.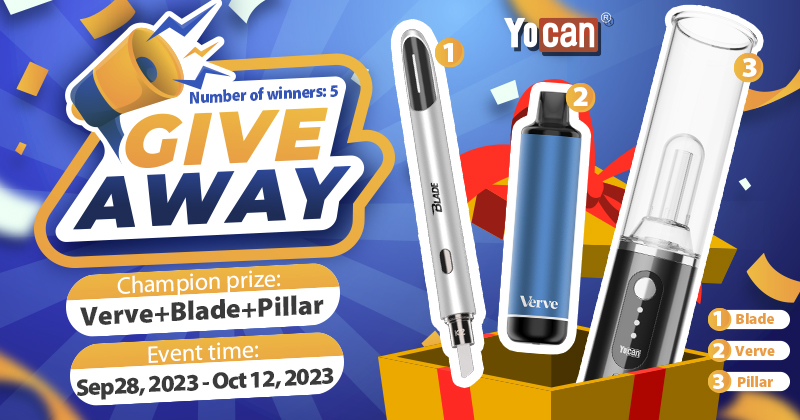 Champion prize: Yocan Verve+Yocan Blade+Yocan Pillar
The champion of this event will receive the above three products at the same time. The winner can experience both the perfect dabbing experience of the Yocan Pillar and Blade hot knife and the convenient vaporizing experience of the new Verve auto draw 510 vape pen battery.
Second place prize: Yocan Blade + Yocan Pillar
The runner-up winner will receive both Yocan Blade and Yocan Pillar products. The perfect combination of these two devices can upgrade your tapping experience to a new level, making your tapping more convenient and efficient.
Third place prize: Yocan Blade
If you are a CBD concentrate lover, then you must have this Yocan Blade hot knife. Using it can help you cut concentrate quickly and accurately, reducing the waste of concentrate.
Two winners remaining Prize: Yocan Verve
The two remaining winners will each receive a Yocan Verve auto-draw vape battery. This device is very suitable for novice e-cigarette users. It has no complicated button design and its exquisite appearance is also the best gift for friends.
The above is a detailed introduction to the prizes of this Yocan Verve Giveaway event. Don't miss this opportunity, come and join the event!
Related Articles
Why Do You Need the Yocan Verve Auto-Inhale-Activated Battery?
Yocan Blade Electric Hot Knife Tool Giveaway Winner
Free Yocan Blade Hot Knife Loading Tool Giveaway Countdown to One Day
yocan gives back to us all more than most companies ever will. High quality!!