Connect with your social network account
Moderator: Michelle
The Yocan Blade hot knife dab tool is a loading tool designed specifically for cannabis concentrate enthusiasts to use for precision cutting and picking up wax. Powered by a 400 mAh rechargeable battery and heated, the concentrate can be quickly poured into the dabbing device in just 3 seconds.
Yocan Electric Dab Tool Features and Functions
Ergonomic design
Yocan Blade hot knife dab tool is designed with great emphasis on user experience. After carefully studying user habits, we designed this electric hot knife that can rotate 90 degrees and is suitable for a variety of grip styles. To the greatest extent possible, every consumer who uses Yocan Blade will have a perfect experience.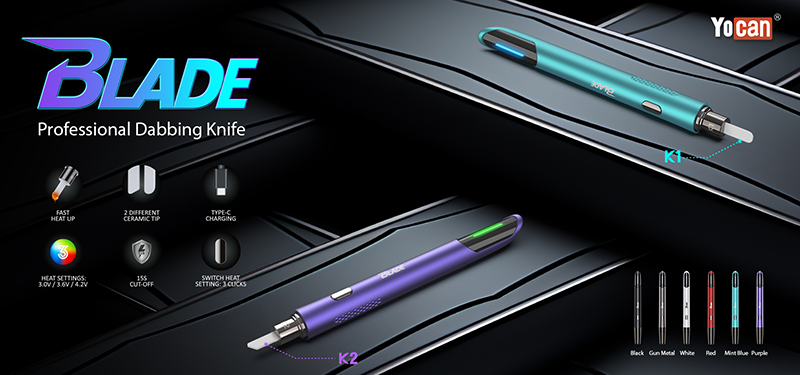 Magnetic link cutter head
The Yocan Blade hot knife dab tool comes in two different shapes with ceramic tips. Allowing consumers to achieve convenient and precise cutting when dealing with different types of concentrates. The magnetic tip interface design allows users to easily replace the tip in a few seconds.
High-quality zinc alloy shell
The overall body of the Yocan Blade hot knife dab tool is made of high-quality zinc alloy material and a plastic cap. The Yocan Blade is very durable, beautiful, and lightweight, making it easy to carry around without any burden.
What's in the Yocan Blade Kit package?
Unwrap the beautiful gift box of
Yocan Blade electric hot knife
. You will find a Blade hot knife with a K2 ceramic tip pre-installed inside. There is also an additional replaceable K1 tip. As well as a Type-C USB charging cable and an instruction manual.
The above content is an introduction to some features of the Yocan Blade hot knife for dabs. If you want to explore more features, please visit the
Yocan official
website for consultation.
Related Articles
What's in the Package of Yocan Zen Dab Pen for Wax?
Who is the Winner of Yocan's 10th Anniversary Giveaway?
Yocan 10th Anniversary Wholesale Vaporizer Sale Countdown