Connect with your social network account
Moderator: Michelle
Dab rig is more and more popular because of its smooth and moist steam taste through the filtration of water. Especially popular with the younger generation. Dabbing has become a very popular way of smoking wax concentrate.
For those who are new to dab rig for the first time, it can be a bit of a headache. Because its organizational structure is relatively cumbersome, it is also very troublesome to use and operate, and it needs to be heated with an open flame. Therefore, it is a great test for novices in terms of temperature control. But you want to easily control this method. What new equipment can help you?
Yocan Pillar smart e-rig
can help you solve it.
The difference between dab rig and e-rig
Smart e-rig is an upgraded version of dab rig, which effectively improves the experience of consumers who are keen on wax concentrates. Bringing the cannabis industry into a whole new world.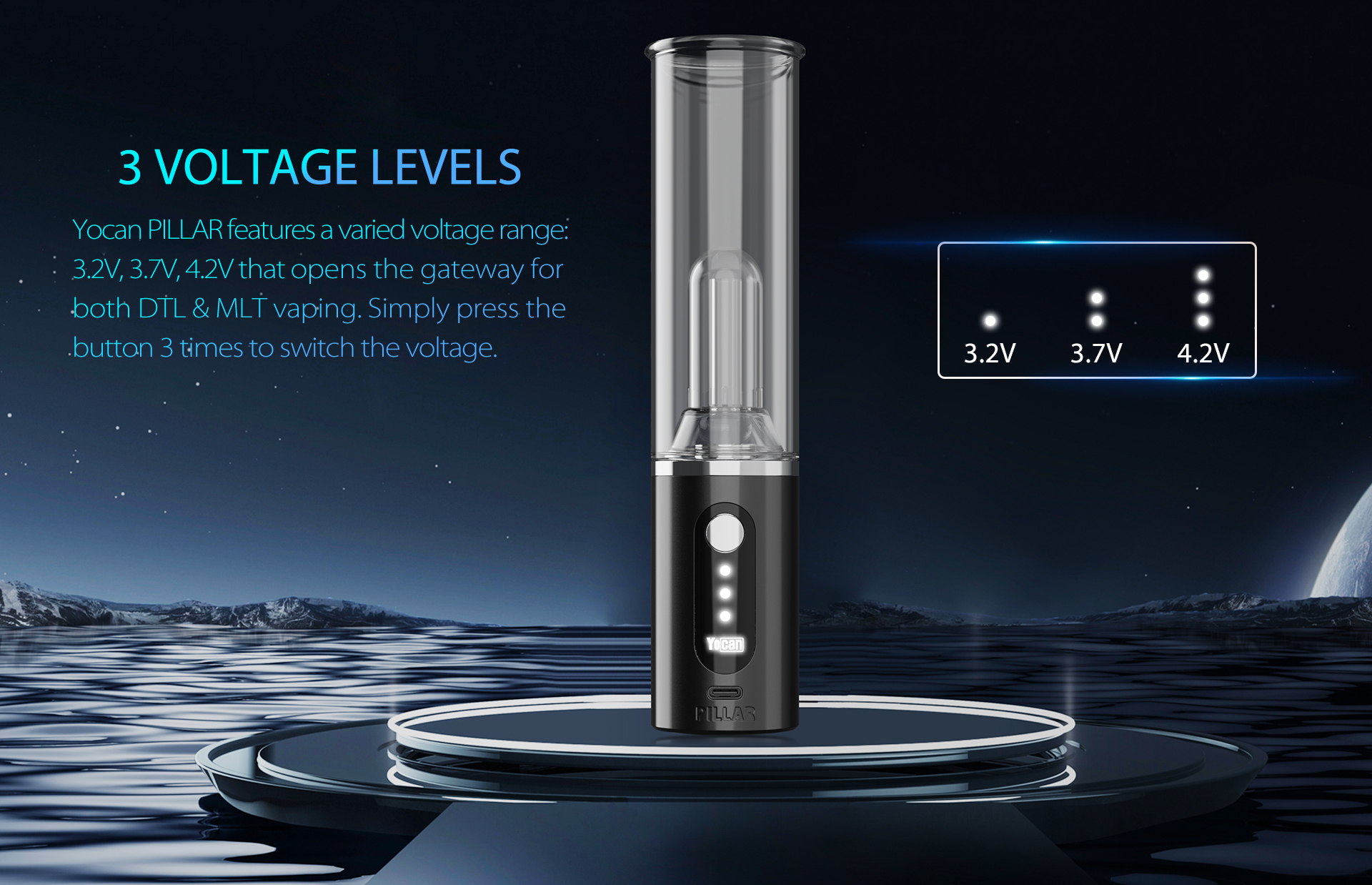 Support to carry out
Most Electronic dab rigs are small and portable. The overall structure is also relatively simple. For example, the whole product of Yocan Pillar e-rig can be divided into two parts, the upper end of the water glass mouthpiece, and the lower end of the atomizer body base.
The upper end and the lower end are connected by magnetic suction, which is very convenient for disassembly and assembly. Glass blowing nozzles can also be replaced individually. With a size of 183mm x 40mm, you can easily put it in your bag to start your trip.
Precise temperature control
If you choose the smart Smart e-rig, you can set the temperature through the corresponding button. Or with a voltage adjustment setting, you can set it according to the temperature that suits you. These temperatures are experimentally proven optimal for heating the wax concentrate. (3.2V, 3.7V, 4.2V).
Safe heating
E-rig uses battery-powered heating, which reduces potential safety risks compared to open flame heating. The battery capacity depends on the product you buy. It is recommended to buy a relatively large capacity, so that you can reduce the trouble of charging when you go out. The battery capacity of the Pillar portable e-rig is 1400mAh, so you don't have to worry about using it for a whole day. Type C charging can be fully charged in just 2 hours.
More healthy
Because the traditional dab rig is heated by an open flame, some novices can't control the corresponding temperature well when using it. It is easy to cause the wax concentrate to not melt completely, and it is easy to inhale some impurities when inhaled. The taste is greatly reduced, and it will also damage the lungs.
Friends who know Yocan know that the steam produced by their TGT coil heating is not only pure in taste, but also melts very efficiently and evenly. This new product Yocan Pillar smart e-rig uses TGT coils and comes with two coils (TGT-P+TGT QUAD). TGT-P is very suitable for novices, TGT QUAD is suitable for veterans, and for friends with relatively large steam volume and good lung capacity. With the replacement of two coils, you don't have to worry about the service life of this product.
Where to buy Yocan Pillar
Yocan has ten years of experience in the research and development and production of atomizers, with a complete product line and equipped with high-end equipment. Strict quality inspection, cooperate with many retailers and e-commerce websites around the world. You can also pay attention to Yocan official website to make purchases.
In general, choosing a portable smart e-rig for beginners must be your best choice. Not only is it easy to use, but you don't need to spend any time on the temperature control of the taste of the concentrate. If you want to know more about Yocan's products or cooperate with Yocan, you can subscribe to the official website.
this is abest but Jucy Lucy is a also best and Jucy Lucy is a new in this market.