Connect with your social network account
Yocan official invites you to participate in the Black Friday and Thanksgiving vaporizer Giveaway.
Before Thanksgiving and Black Friday is coming,
Yocan vaporizer manufacturer
for this to celebrate this holiday season. We are hosting an online Yocan vaporizer giveaway from November 15, 2023 - November 27, 2023, on Yocan official website!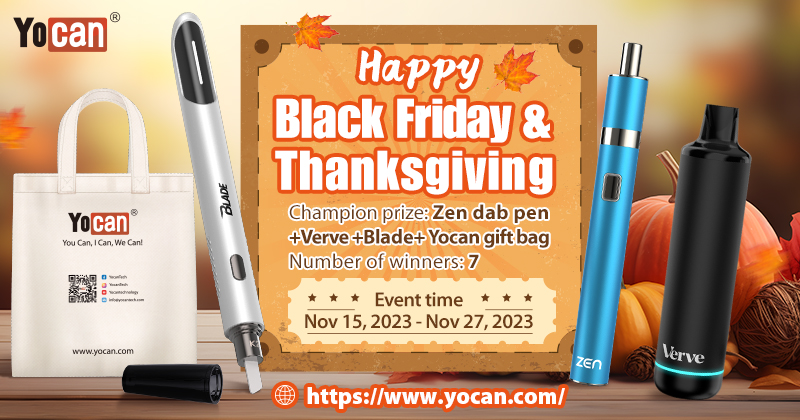 What are the prizes in the Yocan official thanksgiving giveaway?
For this event, Yocan is offering a range of premium vaporizer equipment as well as exclusive Yocan gift bags as prizes. The number of winners will be 7, ranked based on the total cumulative score of the tasks completed by participating in the event. The prizes up for grabs are a Yocan Zen best pen for dabs, a Yocan Verve auto-draw vape pen, a Yocan Blade hot knife dab tool, and an exclusive Yocan gift bag. To learn more about the second and third prizes, please visit the Yocan website!
Would you like to take advantage of this opportunity to win a free Yocan vaporizer device? Then click here
Yocan official vaporizer Black Friday Giveaway
to enter immediately!
Let's welcome the holiday season with gratitude and joy! Happy Thanksgiving, all you CBD concentrates lovers!
Related Articles
How Much is a Yocan Zen Wax Dab Pen?
What is a Yocan Blade Electric Hot Knife Dab Tool?
What's in the Package of Yocan Zen Dab Pen for Wax?
Amazing information. I really enjoyed this thread and discussion by the people.