Connect with your social network account
Moderator: Michelle
The
Yocan Verve 510 vape pen battery
giveaway organized by the Yocan vaporizer manufacturer has successfully concluded many thanks to all participants who actively participated in this event. The following content will introduce the 5 winners of this event.
The grand winner of this Yocan Verve Giveaway is @Carter Burgs. You will receive one product each of Verve 510 vape pen battery, a Yocan Blade hot knife, and a Yocan Pillar e-rig. Second place winner is @Michael Hall. You will get a Yocan Blade dab tool and a Yocan Pillar e-rig. Use Yocan Pillar e-rig with Blade dabbing hot knife. It allows you to use the Yocan Pillar e-rig to quickly and accurately cut concentrates, reduce concentrate waste, and keep the Pillar e-rig equipment in a clean condition. Reduce cleaning frequency.
The third-place winner is @Jeff Kowalski and will receive a Yocan Blade hot knife dab tool. The remaining two winners are @Arti Khodos and @Kyle Bailey who will each receive a Yocan Verve 510 vape pen battery. Congratulations to the above 5 winners, please pay attention to the official email notification from Yocan. We will arrange prize delivery for you as soon as possible.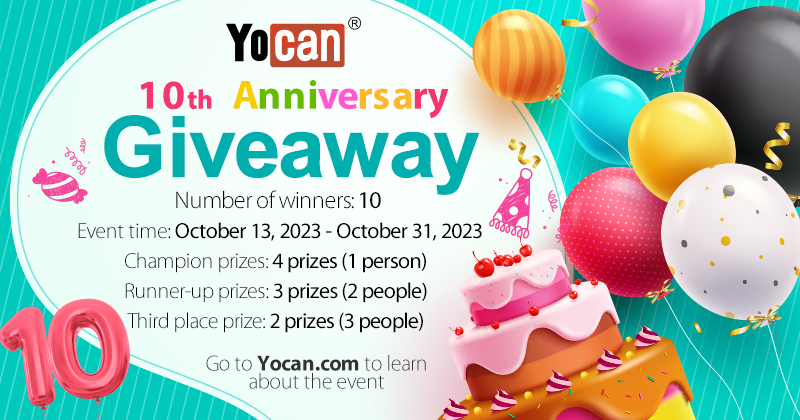 Participants who did not win, please do not be discouraged. October 13, 2023, is the tenth anniversary of Yocan. Yocan Tech would like to express its gratitude for the support of distributors and fans around the world for ten years. Another grand Yocan Vaporizer Manufacturer 10th-Anniversary Giveaway event and large cashback promotion for wholesale orders was held on the Yocan official website. The prizes are very high. If you are interested, please participate in the event immediately.
Related Articles
Yocan Tech 10th Anniversary Giveaway
Why do You Need to Own a Yocan Zen Dab Pen Vaporizer?
Enter Yocan Tech to Win Verve Auto-Inhale-Activated Batteries